Wilton Treatology Flavor Kit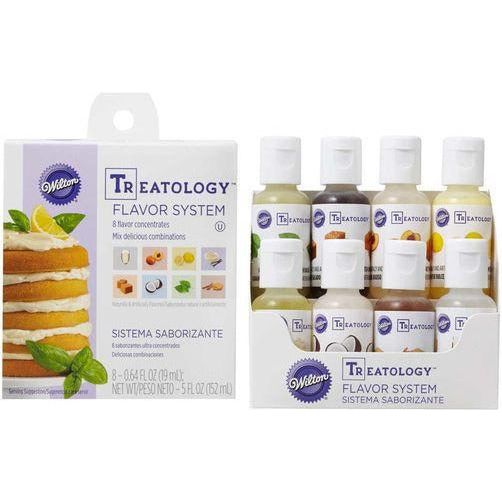 Blend unexpected, yet perfectly paired flavors to create delicious combinations.

Flavor Concentrates | Gourmet Flavor Infuse icing, cake batter and dessert fillings, with unique gourmet flavors including: Crisp Champagne, Sweet Meyer Lemon, Fresh Basil, Warm Cinnamon Graham, Juicy Peach, Salted Caramel, Creamy Vanilla Custard and Toasted Coconut. Treatology flavor concentrates capture these unique flavors and are stronger than standard extracts and emulsions, so it's easier than ever to quickly infuse delicious flavor into any dessert. Use less to flavor more ? because every drop is bursting with delicious flavor.
Flavor Infusion | QuickCountTM Flavor Recipes Wilton QuickCount flavor recipes make it easy to create gourmet desserts, like Lemon Basil Cake, Peach Bellini Parfaits and more. Plus, you can mix drops of flavor to create your own unique recipes, and infuse any treat with new and exciting flavor combinations.
Use the Wilton Treatology flavor system to mix drops of flavor, and create your own recipes. Or, follow our easy Treatology QuickCount? flavor recipes to make unique flavor-infused desserts, like Horchata Cupcakes and Coconut Crème Brulee Cookies.
You may also like